1st to 10th September 2023
DEAUVILLE Centre International de Deauville 
49e DEAUVILLE AMERICAN FILM FESTIVAL
The Festival, which is open to the public, brings together film professionals and fans of the seventh art by showcasing the diversity of American films, from Hollywood productions to independent cinema. Every year, some sixty screenings are presented.
Since it was founded in 1975, the Deauville American Film Festival has been the must-attend event of the fall film season. Official competitions showcasing independent films, tributes, documentaries, premieres and screenings punctuate an ever-evolving festival. It is the only European festival of this scale to open its doors to the public.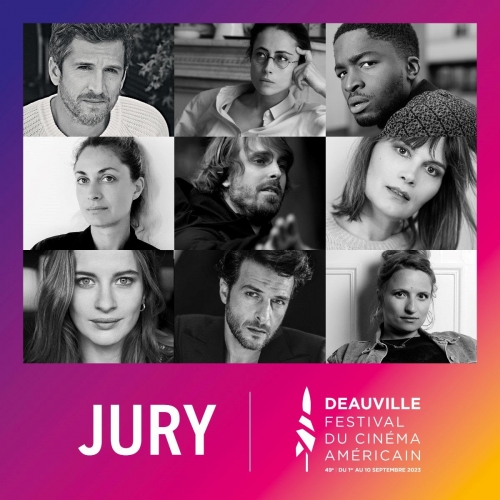 THE COMPETITION - the artistic vision of independent cinema as a truth about the world. To discover and support new talent. Guillaume Canet is Chairman of the Jury, and Mélanie Thierry the revelation of this 49th edition.
THE FIRST - today's film writers and directors meet the public
UNCLE SAM'S DOCS - to gain a better understanding of American society through documentaries, which bear witness to their time and era.
THE TRIBUTES - the pleasure of American cinema in its myths and legends and the celebration of talent.
THE NEW HOLLYWOOD - honour the future by inviting a leading American actor to the Festival. This year the prize will be awarded to Emilia Clarke in his presence.
WINDOW ON FRENCH CINEMA - previews of French films
CROISETTE TIME - Cannes selection entirely devoted to this year's Cannes Film Festival awards.
THE DEAUVILLE TALENT AWARDS - rewards the most outstanding personalities in American cinema. Their names are inscribed on the lices des Planches.
Breaking news: the festival is supporting the actors' support for the writers' strike, even though it is suffering the consequences. Peter Dinklage and Natalie Portman have cancelled their appearance, as have Jude Law and Joseph Gordon-Levitt, who were due to pay tribute. However, despite these cancellations, the programme and ceremonies in their honour have been maintained. The main thing remains the films themselves, and the public will be able to discover them and meet the directors, most of whom will be present, including Todd Haynes, Rebecca Miller, Sophie Barthes, etc.; 24 directors, including 12 in competition, will walk the Deauville red carpet; Jerry Schatzberg, to whom Guillaume Canet will pay tribute.